U.S.A. –-(Ammoland.com)- While FN Manufacturing is most commonly known as the military's supplier for M4 rifles, in recent years, they have released firearms designed specifically for 3 gun. The FN 15 Competition Rifle, is the perfect combination of battle-field reliability and the benefit of competition performance.
What does that look like? Well for starters how about this…
At 100 yards I was averaging 1-MOA on 5 shot groups with 55 grain Federal American Eagle .223, non-match ammunition. I would consider that impressive. There is little doubt in my mind this gun can shoot sub-MOA, I shot these groups on a busy indoor range, and I know I pulled a few shots.
Equipped with an 18" chrome-lined CHF Precision Heavy Barrel with a 1:8 RH twist the FN 15 Competition is more than a tack driver. What I'm saying here is, if you are missing the target with this rifle, you might want to work on that trigger pull!
If you are jerking the trigger in the FN 15 Competition rifle then we need to work on some fundamentals. The FN-15 comes installed with a single-stage competition trigger from Timney that breaks right around 2.5 lbs. This trigger is perfect for 3 gun where you will encounter multiple close-range paper targets, and steel targets at varying ranges from 100 yards up too and beyond 600 yards.
This is an opinion, but the shape of this trigger yields the benefits of both curved and flat faced triggers. With a slight curve like this trigger has, it is much easier to index the trigger and make consistent breaks.
While doing bill drills (stand 20 yards from target, 10 shots under ten seconds, inside A-Zone) I was easily able to keep all my shots in the A-zone of a 12" IPSC target (silhouette). This was in part due to the Timney trigger but also from the SureFire ProComp-556 muzzle brake, which makes the rifle incredibly flat shooting, and very easy to quickly dump a full magazine on target.
If you are familiar with 3 gun, or any shooting competition for that matter, you know that the longer you can keep shooting the faster you will be finished.
In other words, reloading is a waste of precious time.
Anything that can reduce the time between your gun being empty and you hitting that next target, is a severe advantage over your other competitors. FN has given you that advantage with an ambidextrous bolt catch release button on the right side of the lower receiver. The button is located next to the mag release so hitting it with your index finger is easy to manage while keeping your grip on the rifle.
Tons of people run B.A.D. Levers or other similar aftermarket products, but the bolt release on the receiver is not only faster to use but is also safer to use. For one, it is faster to drop the mag and move your finger to the bolt release button, rather than having to put it in the trigger guard to hit the lever. This brings me to the second point of those levers putting your finger in the trigger guard before you might be ready to fire, hypothetically, it puts you at a higher risk of causing an A.D. and subsequently disqualifying you from a match.
Missing One Little Thing
There is one thing this rifle could improve on, and that is the Mega Arms 16" handguard. Although it is M-LOK which I prefer, it is missing QD sling mounts. While this is a slight feature it saves you from having to add an attachment point for the sling. A slim handguard, unencumbered by attachments is the best setup for a competition rifle.
I'll be honest, that was really my one complaint with this rifle, there are no readily available sling points on it. In a competition, I prefer a 2-point sling, this way if I need to transition to my sidearm or move to a box I can throw the rifle around my back and move at pace.
While most matches do not even require a sling, I would rather have one and the means to attach it than to need it and not have it.
Crushing the Important Things
Overall, this is among the nicer options for 3 gun rifles on the market, with that obviously comes with a steeper price tag. It is a high-quality rifle, there is no questioning that. The billet receiver set is milled so precisely that separating the upper and lower actually requires a bit of pressure. Then consider you also get an 18" CHF barrel, nickel boron BCG, awesome Timney trigger, ambidextrous bolt catch release and so on until infinity. This rifle has everything required to shoot fast in a competition and has a few upgrades you will not find in other rifles.
FN 15 Competition Rifle

For the serious 3 gun shooter, the FN 15 Competition Rifle is a highly competitive option.
---
About Duncan Johnson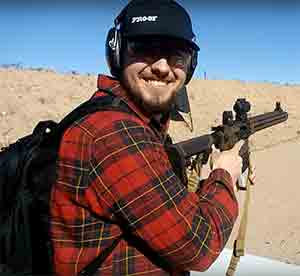 Duncan is a firm believer in the Second Amendment and that "shall not be infringed", means exactly that. A life-long firearms enthusiast and a graduate of George Mason University, now competing regularly in 3 gun competitions, Duncan is always looking to improve his shooting skills. Duncan is a regular contributor to AmmoLand and assists in the everyday gun-news publishing as an assistant editor.
The post FN 15 Competition Rifle – Battle Proven and 3 Gun Ready appeared first on AmmoLand.com.