Auction to benefit Scholastic Action Shooting Program.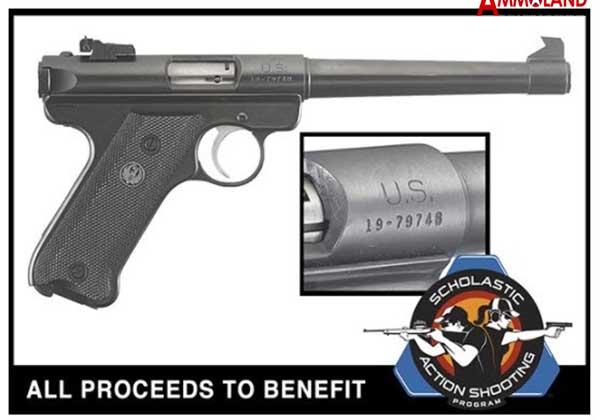 USA – -(Ammoland.com)-  Ruger Firearms has generously donated a rare and collectible "U.S." marked Mark II .22 LR caliber pistol to benefit the Scholastic Action Shooting Program. The pistol is being auctioned on Gunbroker.com now through January 31, 12:30 PM eastern time.
We have for auction a "U.S." marked Mark II .22 LR caliber pistol with a rollmark date of November 3, 1983.
The serial number is 19-79748. It is likely a proto-type of the MK678G training pistols manufactured for the U.S. Army from 1984 – 1986. The pistol has a heavy tapered 6-7/8 inch barrel. The "U.S." stamp is larger than the contracted models, and the front sight is a higher Patridge-type fixed front sight.
Additionally, the U.S. Army pistols' serial numbers began with prefix 210-. In 1983, Ruger was awarded a contract from the U.S. Army, Rock Island Arsenal for a .22 caliber target and training pistol for the U.S. armed forces. A new model was established to meet the U.S. Army's requirements (catalog no. MK678G), and this was the first time Ruger Mark II pistols were equipped with 6 7/8″ bull barrels. The MK678G pistols were rollmarked "U.S." on the right side of the barrel/receiver assembly, had finer sights, a roller-burnished chamber, and enhanced accuracy.
Special targeting methods were developed using a (then) new laser sighting system, which was later granted a U.S. patent. The laser targeting system worked very well during production, and each pistol was packed with a target attesting to its compliance with the U.S. Government accuracy standards for such pistols. The duration of the contract lasted until 1986, and the Company ultimately shipped over 17,000 pistols to the U.S. Army. No "U.S." marked pistols were shipped commercially during the period of the government contract.
The pistol is being sold "as is," and the purchaser assumes all liability for its safe and proper ownership, storage, use, and resale. The pistol is a part of the Ruger factory collection in Southport, Connecticut, and a Certificate of Authenticity will be mailed to the winner of the auction. Note: the winner of this auction will be responsible for paying the Federal Excise Tax.
The auction ends on January 31, 2018 and 100% of the auction proceeds will be donated to the Scholastic Shooting Sports Foundation's Scholastic Action Shooting Program.
Ruger has committed to supporting the Scholastic Action Shooting Program (SASP) through a series of Gunbroker.com auctions running through mid-April, with a new auction beginning each Wednesday at 12:30 pm EST. Upcoming auctions will include a couple of older New Model single-actions, some P-Series pistols, and a few rare "one-of-a-kind" sample firearms!
Be sure to LIKE and FOLLOW the Scholastic Action Shooting Program's Facebook page for current auction information. https://www.facebook.com/ScholasticActionShootingProgram/
About Scholastic Shooting Sports Foundation
The Scholastic Shooting Sports Foundation (SSSF) is 501(c)(3) public charity responsible for all aspects of the Scholastic Clay Target Program (SCTP) and Scholastic Action Shooting Program (SASP) across the United States. SCTP and SASP are youth development programs in which adult coaches and other volunteers use shooting sports to teach and to demonstrate sportsmanship, responsibility, honesty, ethics, integrity, teamwork, and other positive life skills. SCTP was developed as a program of the National Shooting Sports Foundation (NSSF) until the SSSF was created in 2007 to operate the SCTP. In 2012, SSSF created the SASP and became the managing foundation of both programs.
This post Ruger Donates Rare Mark II .22 LR Pistol To Benefit SASP appeared first on AmmoLand.com .