Mike Searson has been using both the Flambeau Stackhouse Pistol Case and the Flambeau Cargo Range Backpack for several months and found a real surprise.
USA – -(Ammoland.com)- We get to review a lot of different firearms for AmmoLand News, but sometimes the accessories and gear that goes with these firearms is just as important and often overlooked.
Every one of us probably has a digicam NRA range bag that splits at the seams if you look at it sideways.
Firearms and ammunition, especially for a range day outing, carry a lot of weight and regardless of the distance from your vehicle to the firing line; you need a range bag or pistol box that can hold up to that.
We took a look at two of these carriers that were capable of toting our handguns, ammunition, targets, ear and eye protection plus the rest of the stuff we need to send rounds downrange
Both are from Flambeau and made in the USA.
Sometimes I think I have more range bags than I have pairs of socks and every few years I try a new one out. This has resulted in broken cargo straps due to the weight or bags being cast aside for being too small.
Flambeau sent us out their Cargo Range Backpack and after a few months I think it is the only range bag capable of eclipsing my beloved Waller bag that was stolen from my car a year ago.
The Flambeau Cargo Range Backpack is a lightweight black tactical-looking backpack configured for a day at the range. It includes 2 14″ flambeau hard sided pistol cases and 2 miniature ammo cans that store as many as 10 50-round boxes of 9mm. Both these ammo cans and the pistol cases include a patented anti-corrosion Zerust plaque to protect your firearm and ammunition from rust.
You need more than just guns and ammo to hit the range and the spacious "attic" top compartment easily holds your hearing and eye protection, stapler and other range necessities.  A rubberized mesh pocket holds paper targets, 2 deep side pockets can hold a multi tool or other accessories but best of all (in that we have never seen this one before) is an interior waterproof pouch for storing liquid cleaning supplies such as oil or solvent.
The front and sides have additional MOLLE and PALS attachment points to load up with even more gear if you need to do so.
Overall Dimensions: 15.5″ L x 13″ W x 20.5″ H
5415MC Mini Ammo Can Interior Dimensions: 6.75″ L x 3.375″ W x 5.5″ D
1411 Pistol Case Interior Dimensions: 13.375″ L x 7.25″ W x 3″ D
MSRP on the Cargo Range Backpack is $189, but Amazon has them for a bit less.
I have always wanted a Bullseye pistol case, although probably one closer to the one Leon used in The Professional than to the old timer version more commonly encountered on Sunday afternoons at the local outdoor pistol shooting range.
Flambeau's got me a bit closer to what I was looking for and it easily transports a few of my favorite pistols to the range when I want to really work on my accuracy as opposed to test firing a different new pistol every week.
There are two removable layers of pluck foam for a number of vertical and horizontal combinations of numerous firearm configurations. We made ours around the SIG P210A, Benelli MP95 and a S&W Model 52-2. However you can tailor yours to fit a Desert Eagle, Glock 26 and a Beretta 92 or whatever your favorite combination is.
The Stackhouse pistol case is waterproof and constructed with a heavy-duty polycarbonate lid and thick-wall base. Its interior Dimensions are 16.2″ L x 11.3″ W x 6.75″ D. It incorporates 2 waterproof Tuff Tainers in a cage in the base for additional storage of cleaning supplies and tools. An over-molded handle with lockable tie-down hasps ensure that it meets TSA and airline safe requirements.
MSRP is $89.95 but you can find them cheaper online. The version without the Tuff Tainer bottom storage goes for $50-$60 retail.
Interior Dimensions: 16.2″ L x 11.3″ W x 6.75″ D
We have been using both for several months and have to admit that the Flambeau Cargo Range Backpack was a real surprise. The Flambeau back pack design lets you go hands free so you can carry your pistol case, rifles, target stands and even push a hand truck loaded up with a few cases. We would have ignored a setup like this a few years ago but have to admit it works as advertised and puts all that weight in a more easily carry-able location.
Although the Flambeau Stackhouse Pistol Case is rated as TSA approved for transporting firearms, we prefer a more rugged travel case. However for rolling up to the firing line with some of your finest pistols, it cannot be beat.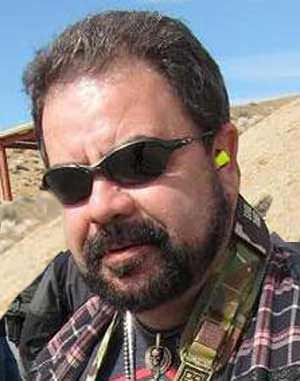 About Mike Searson
Mike Searson's career as a shooter began as a Marine Rifleman at age 17. He has worked in the firearms industry his entire adult life as a Gunsmith, Ballistician, Consultant, Salesman, Author and was first certified to teach firearms safety in 1989.
Mike has written over 2000 articles for a number of magazines, websites and newsletters including Blade, RECOIL, OFF-GRID, Tactical Officer, SWAT, Tactical World, Gun Digest, Examiner.com and the US Concealed Carry Association as well as AmmoLand Shooting Sports News.
Home page: www.mikesearson.com
FB: www.facebook.com/mike.searson
TWITTER: www.twitter.com/mikesearson
This post Flambeau's Cargo Range Backpack & Stackhouse Pistol Case are Gun Range Essentials appeared first on AmmoLand.com .