Last year, Colt launched their newest revolver in the form of a 6-shot stainless steel, double-action snub nose chambered in 38 Special called the Cobra. While they resurrected the name of one of their more popular snubbies of yesteryear, the new Cobra draws more on the lines of the company's later SF-VIs (Small Frame 6 shot) and Detective Specials with an ejector rod shroud, thicker barrel and enlarged trigger guard.
U.S.A. –-(Ammoland.com)- While the venerable Colt Single Action Army Model of 1873 is still produced by Colt's custom shop, this is their first double action revolver to hit production in over 20 years when they made the aforementioned SF-VI and DS II between 1995 and 1996.
It is a smart move for Colt as double action revolvers are essentially in demand in two categories these days: oversized target and hunting revolvers in magnum calibers or in diminutive carry pieces like the Cobra.
Colt never really made it big with the larger ones, so it's good to see them go back to their roots, so to speak.
However, the name puzzled us as the new Cobra is very different from the original which debuted in 1950 as the world's first aluminum framed revolver.
As we mentioned, that revolver had a tapered barrel and no ejector rod housing. The new Cobra has a thicker barrel and the addition of an ejector rod housing as well as a fiber optic front sight. Instead of walnut grips inset with Colt medallions, the new Cobra sports a Hogue, over molded-rubber, a one-piece grip that attaches via a screw in the base as opposed to side to side.
We put it side by side with our Detective Special that was made in 1981. We found the two to be more similar than the Cobra of the 1950s-1970s.
The trigger was nice and broke at 7.5 to 8 pounds in double-action mode and 3 pounds in single-action. That ran just a bit higher than our nearly 40 year-old Detective Special. We suspect it may wear in with time. The reset is appreciatively longer than other revolvers of the same size, so remember to allow it to fully return to the forward position in order to avoid stacking issues.
Range Time
At the range, we tested the Colt Cobra at our standard distance of 50 feet for defensive handguns. Some might think this is too close, but we find it to be about the cutting edge for self-defense distance. Shooting an attacker beyond that point will probably get you into some legal trouble with regard to the level of a threat you were engaging (bad guy with a rifle excluded of course).
Using a hodgepodge of 38 special ammunition (this stuff doesn't grow on trees and is not nearly as cheap as it once was) we ran everywhere from 1.5" using 148 grain HBWC (Hollow Based Wad Cutters) to 3.25" with Hornady's 110 grain +P FTX (Flex Tip Expansion) Critical Defense rounds.
The HBWC were from our old stash of reloads for our S&W Model 52 that are great for accuracy but not advisable as a defensive load.  The FTX make for a good defense load and, yes, the Cobra is rated to handle +P ammunition.
Six rounds of 38 Special +P in a package just a hair bigger than their competition's 5-shot offerings have always given me comfort. After seeing my share of blown up 5-shot 357 Magnum snubbies, I would never feel safe carrying one.
The rumor mill is churning out stories of G-10 grips to be made for the Cobra down the line and we hope to see more holster options in the future. The new Cobra is a nice little defensive piece.
Final Thoughts
While the Cobra moniker puzzled us, we have a working theory as to why Colt went with this name over an acronym or even the "Detective Special".
Could there be plans to resurrect the "snake line" of Colt revolvers?
Might we see a larger "King Cobra" in 357 Magnum or perhaps the mighty Anaconda in the future; or if all our dreams were to come true: the Python and Diamondback?
It might be wishful thinking on our part. Most of those firearms have history and nostalgia associated with them and therein lays the reason for their escalating prices. With metal injection molded (MM) and CNC (Computer Numerical Control) parts available nowadays, there is not a need to hand fit small parts that are made oversized in a forge as Colt's revolver parts used to be made.
A new line of stainless double-action revolvers reflecting their classic lines could be the shrewdest move that Colt has made since they bought the AR-15 design from Armalite.
The Colt Cobra seems to be proof of that concept and this is why we say Colt has successfully reinvented the wheel gun.
---
About Mike Searson: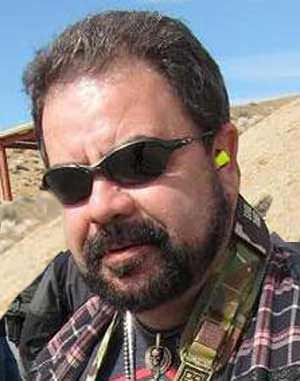 Mike Searson's career as a shooter began as a Marine Rifleman at age 17. He has worked in the firearms industry his entire adult life as a Gunsmith, Ballistician, Consultant, Salesman, Author and was first certified to teach firearms safety in 1989.
Mike has written over 2000 articles for a number of magazines, websites and newsletters including Blade, RECOIL, OFF-GRID, Tactical Officer, SWAT, Tactical World, Gun Digest, Examiner.com and the US Concealed Carry Association as well as AmmoLand Shooting Sports News.
This post Reinventing the Wheel Gun with the New Colt Cobra appeared first on AmmoLand.com .